Amazon is taking one more step into the healthcare business. After it's acquisition of online pharmacy PillPack, the e-commerce giant will sell consumer-focused medical devices to help consumers manage diabetes and hypertension. Health consultancy firm Arcadia Group developed the brand for Amazon, called Choice.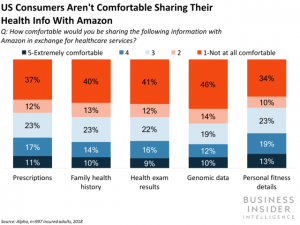 The question is: are you comfortable with sharing your personal health info with Amazon ? Following a research of Business Insider, nearly 40% of US consumers are not, and we can understand why: Amazon could pair these new devices with Alexa to make its smart speaker a powerful personal health assistant.
Therefore, Amazon should first focus on building consumer trust. Learn more.